Give yourself beautifully renewed skin with our ALL- PURPOSE aromatherapy cremes. Each beautiful, handmade pottery jar is unique, never one exactly like the other.
Nadina's Cremes, devoted to social change, is in partnership with the Providence Center who employ the developmentally challenged to produce displays and ceramic jars. 
The .5 oz. 3 oz., 7 oz.  ceramic jars are simple and colorfully glazed with no designs. The 2 oz. ceramic jars are ceramic, glazed and have designs with seahorse, turtle, whale tale, mother + baby whale, dragonfly, bees, volcano, trees. The 8 oz. and larger quantities are great for refilling the smaller ceramic jars.
Nadina's Cremes Hawaii Collection

The various sizes
Ounces from left to rigth: 0.25 | 0.5 | 1.0 | 2.0 | 3.0 | 7.0 | 8.0. We also offer 1/2 gallon and 1 gallon tubs, ideal for filling up your jars. The 0.25 is great for sampling the scents, and the 1.0 is a perfect traveling / purse size.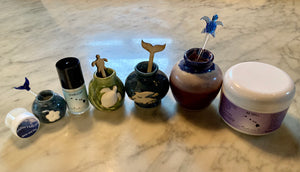 Size DOES Matter!
Below is a quick reference guide on size, quantity and savings. To learn more about all the size options we offer, click here. 

Four smalls (0.5oz) valued at $17 each, all together equaling $68, equals one medium (2.0oz) valued at $29. 
Four mediums (2.0oz) valued at $29 each, all together equaling $116, equals one 8.0oz valued at $69.
Sixteen (8.0oz) valued at $69 each, all together equaling $1,104, equals one Gallon valued at $350.
ALL BAS-RELIEF JARS COME IN 2oz. ONLY (turtle, whale tail, dolphin, tree, dragonfly, seahorse)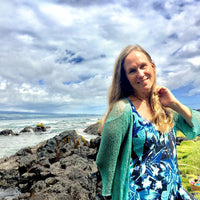 Nadina Clements, Founder
Having traveled extensively throughout the world and encountered many different peoples and cultures, I have looked for what contribution I could make to you and the Earth through my products and my company.  We have always based our company on the principles of both education and channeling funds to the following: Victims of domestic violence, protectors of the rainforests, the developmentally challenged, and the homeless. We believe that we can contribute to a better future by giving back to the community. For more about me. 
Nadina's Crèmes Mission
SHOP NOW
1. Choose your preferred scent below.
2. Inside the shopping area, choose the jar size.
3. In the shopping cart, under "notes" field, write your preferred jar design. Here also enter a discount code if applicable.

ENJOY!
JAR APPLICATORS AND OTHER PRODUCTS